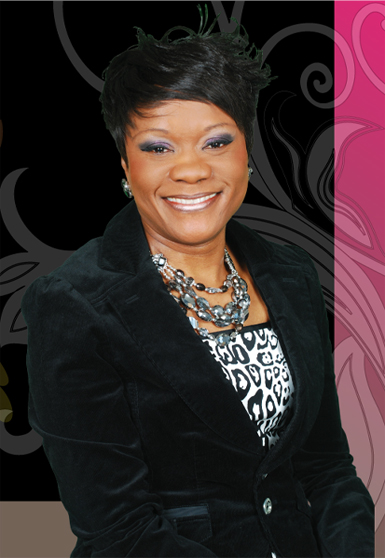 Pastor Sarah Morgan: It's Time to Cry, Travail, and Give Birth!
http://www.womenofvisionla.org/
Written by Nichelle Early, Executive Editor
Every now and again, we will encounter a hard place or a rough experience. Depending on the circumstance, sometimes it can be the most painful experience of our lives. It's at these times that we can easily find ourselves asking the question, "Why me? Why do I have to go through this? And if so, why does it hurt so bad?" And, if we are not careful, this is a place where we will begin to look at our circumstances and our environment and search feverishly for a way of escape. Have you ever been there? Or, perhaps you are there right now. Well, if so, you are due for some good, sound encouragement.
PreachingWoman.com has garnered the exclusive opportunity to speak one on one with Pastor Sarah Morgan (Pastor Morgan) of Vision International Ministries, Inglewood, CA. She has cordially accepted our invitation to reassure you that not only can you survive the pain, but that God will use it to allow you to cry, travail and give birth to His perfect purpose and plan in the earth. Now, in case you have not heard of the phenomenal ministry of Pastor Morgan, we are delighted to introduce you.
As one of the most gracious and authentic women of God that you could ever meet, Pastor Morgan embodies a humble spirit overflowing with kindness and meekness. Her jovial personality radiantly shines illustrating her infectious love for God and His Word. She is truly a jewel to the Body Christ. Serving as Co-Pastor and Vice President of Vision International Ministries (Vision), a non-denominational effective teaching, prophetic, healing and deliverance ministry, founded by her husband, Bishop Peter Morgan, Pastor Morgan is also the founder of Women of Vision, which is the parent organization of her personal outreach ministry. Both ministries serve to build a people of power and godly character through the whole counsel of God's Word, prayer and the Holy Spirit, to lead the nations and advance the Kingdom of God. In addition, Pastor Morgan is also President of Beauty for Ashes, a dynamic, life transforming ministry for hurting, suffering and abused women worldwide, and the founder of the annual Travail Conference.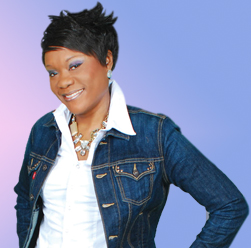 Mantled with an authentic and potent anointing, Pastor Morgan is a skillful, prolific, and insightful teacher of God's word. Used mightily in the gifts of the Holy Spirit, her ministry is characterized by compassion, sincerity, truth and integrity. Renown as an anointed teacher, evangelist, prophetess and prayer warrior who prays with sniper precision, many people who encounter the power of God flowing through her experience definitive results of healing and deliverance.
Pastor Morgan has been afforded numerous opportunities to minister throughout the United States; South, East and West Africa; and London. In an effort to continuously reach the masses for the glory of God with the liberating Gospel of Jesus Christ, she is also the author of several best-selling books: "The PRAYER FACTOR", "Confessing the Proverbs", "Declaring the Psalms", "Intercession by Pattern", "You Shall Decree a Thing", "Prayer Is the Master-Key", "The Seed of the Woman", and "Sing O'Barren." In addition, she has and offers an extensive CD/DVD library to enhance the availability of her ministry message.
PreachingWoman.com's founder, Evg. Nichelle Early enjoyed the opportunity to speak with Pastor Morgan and wants to share their interview with you!
NE: Pastor Morgan, can you please share with us the vision and purpose of your ministry, particularly encompassing your core scripture of Joel 2:1?
SM: In 1992, while my husband and I were living in London, England, God spoke to me in my sleep and I was awakened by the Holy Spirit with the scripture, Joel 2:1. Shortly thereafter as I was praying in my living room, Joel 2:1 was revived in my Spirit. The scripture declares: Blow ye the trumpet in Zion, and sound an alarm in my holy mountain: let all the inhabitants of the land tremble: for the day of the LORD cometh, for it is nigh at hand; (Joel 2:1, KJV).
I asked God what the scripture meant in terms of its application to me and He began to give me revelation. He showed me that a trumpet is an instrument with a distinct sound; it's heard loudly and clearly; it's a sound that causes people to awake and gather to God; it's a sound that causes darkness to dissipate and light to arise. The more I sought God, the clearer the message became. I asked God for His instructions, and it was at that time that I began to see the vision for the birthing of the ministry.
After embracing the vision, there were three women that God placed in my life of whom we got together three times a week to pray. During that time of prayer, we began to see the manifestation of the hand of God.
NE: Now, Pastor Morgan, I love the fact that you said that after seeing the vision, you yet submitted it to prayer...
SM: Yes, a great man of God told me that "Anything not birthed through prayer is illegal..." Prayer is the birth canal of God's purpose, His plan and His power!
NE: Now that is powerful!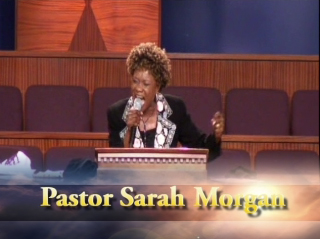 Now in 1992, as a subset of Vision International Ministries, God birthed Women of Vision, which is your personal outreach ministry, correct?
SM: Yes. In 1992, God showed me women and how He desired for them to go forth in His righteousness. I saw teams of women, going forth crying, travailing, and birthing through prayer. I believe that God has called me to gather a people who are pregnant with His vision and His purpose; those who are pregnant with business ideas; those who know they are carrying something, but are not sure how to bring it forth. Particularly, God has called me to bring those women together and teach them the cry of releasing and to help them understand that the pain of many of their life experiences is of God; So, essentially, my job is to be the midwife that ensures that they don't abort or miscarry what God has given them.
NE: Wow! That is so necessary, because life can deal some painful experiences, and we all need a spiritual mid-wife.
So as a mid-wife, what do you say to women who feel they can't make it through the pain or the painful places?
SM: Well, Nichelle, I often relate to my own personal story of labor and pain. With one of my children, I was in labor for three days. The pain had just become so unbearable, so much so, I just decided that I wanted to go home; I felt if I could just get out of that hospital and get back to my home, maybe I would feel better. However, I had a good midwife, and I'll never forget what she said to me. She said, "Don't associate your pain with the environment, because the environment you are in is what you need in order for you to bring forth a healthy baby; everything you need is right here in the place of your greatest pain."
Today, I say the same thing to women who are going through and feel as though they can't make it: "Don't associate your pain with the environment." Don't allow Satan to trick you into leaving the proper place of travail and delivery; or, to abandon the midwife that God has given you...Yes, Hell will come against you, but God will stop the aborting forces of Hell in its tracks. You've got to understand that depending on what you are carrying, it can be severely hard...but you can make it.
NE: Yes! They certainly can make it in Jesus name!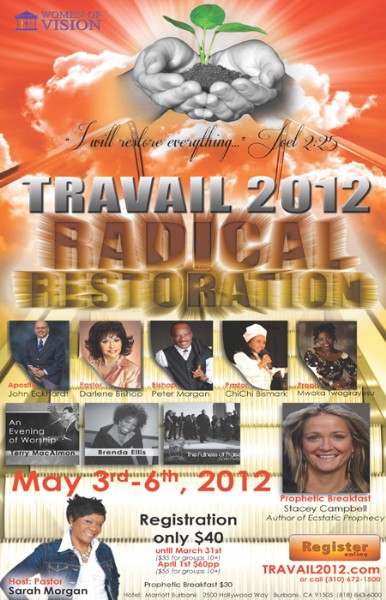 Now Pastor Morgan, we often hear people saying, "Cry out!" "Travail" or "Birth it out!" You refer to those as three realms of prayer. Please share with us about these three realms: crying, travailing, and birthing!
SM: Well, when we look at the scripture, Jeremiah 9:17-20, it says, Thus says the LORD of hosts, Consider you, and call for the mourning women, that they may come; and send for skillful women, that they may come: And let them make haste, and take up a wailing for us, that our eyes may run down with tears, and our eyelids gush out with water. For a voice of wailing is heard out of Zion, How are we plundered! We are greatly ashamed, because we have forsaken the land, because our dwellings have cast us out. Yet hear the word of the LORD, O you women, and let your ear receive the word of his mouth, and teach your daughters wailing, and everyone her neighbor lamentation.
Isaiah 66:7-9 declares, "Before she travailed, she brought forth; before her pain came, she was delivered of a man child. Who has heard such a thing? Who has seen such things? Shall the earth be made to bring forth in one day? Or shall a nation be born at once? For as soon as Zion travailed, she brought forth her children. Shall I bring to the birth, and not cause to bring forth? Saith the LORD? Shall I cause to bring forth, and shut the womb? Saith thy God?
We must understand that Zion is indicative of God's church. It has a womb that is impregnated with the purpose and plan that God wants executed in the Earth. Therefore, God is calling for the women of Zion who will cry and travail in order to provoke Zion [the Kingdom] to give birth. God is looking for a sound of wailing coming out of Zion. The scripture tells us to ...let our ear receive the word of God's mouth and teach your daughters wailing... (Jeremiah 9:20)
Crying is a dimension of prayer and one of the languages of travail. However, you can't talk about travail without talking about conception, which has to do with pregnancy. In other words, there has to be conception before travail. Therefore, when the seed of God's Word goes forth, it's spermatic, and it's looking for a womb in order to cause pregnancy, growth, and labor. For, example the Children of Israel lived in Egypt for 430 years [see Exodus 12:40] However, from the womb of Egypt, came forth Moses; when the children of Israel began to cry out to God, the crying was a signification that their time and season had come, it was a symbol that their time had come to full term and that God had heard them.
NE: Wow! I understand that...just like when babies are birthed out, the first thing they do is cry, because their time has come.
SM: Exactly! Crying is an indication of travail and travail signifies that there will be a birthing out. As it relates to prayer, crying brings an intensity that gets God's attention; and as you continue to cry out in the spirit, it elevates in the spirit and brings forth travail.
Travail is the place in prayer where you labor in the spirit to position yourself to release that what God has placed in your spirit. It's intense and it's strategic. It's a place of positioning in order to birth out!
Birthing out is that time after crying and travailing that God allows you to bring forth through prayer in the spirit that what He has placed in your spirit.
So, I say to the Body of Christ, it is time for us to cry out, travail, and birth out what God is allowing you to carry...
NE: What a powerful revelation! Yes, it is time!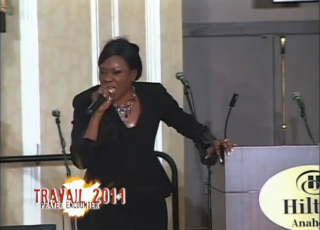 Now, Pastor Morgan, one of the things you talk about is the importance of teaching people to live out of the "Above All" realm. What does that mean?
SM: Well, the Bible states that Jesus is far "above all" principalities and power (Ephesians 1:21); the Bible also says that we are seated with Jesus in heavenly places (Ephesians 2:6); Therefore, I believe that God wants us to function from the place of "above all." The Bible lets us know that Christ is the head and Heaven is His throne, and the earth is His foot stool (Acts 7:9), therefore, if we are seated with Him in heavenly places, then everything here on earth is under our feet since we are a part of His body. Therefore, we are operating from a superior dimension. We have an advantage over the enemy. We should be operating from a position of victory in Christ Jesus...
NE: Wow! That is awesome!
Now, another subject I've heard you expound on is the importance of intimacy with God through prayer and intercession. Please share a little of what God has given you concerning this.
SM: Well, one thing about intimacy is that it usually takes places in private, or in the secret place. When you pray, especially during intercession, you are sowing seeds of intimacy with God. And, the Bible says, that the Father who sees in secret will reward you in the open (Matthew 6:6). When you invest quality time with God by conceiving the seed of His Word, you will be able to operate from a higher level or dimension, if you will, great things will happen and you will experience God's supernatural power in your life.
NE: Pastor Morgan, in your opinion, why does it appear that some in the Body of Christ have gotten away from the emphasis of intimacy and quality time with God?
SM: Well, I believe that some in the Body of Christ have come to a place of seeking information instead of revelation. Revelation is revealed to those who spend time with God. When we consider Jesus and His disciples, during the three years of His ministry, Jesus shifted them from seeking information to desiring revelation. For instance, Jesus was ecstatic when Peter had the revelation that He was the Christ of God (Luke 9:20). This type of revelation comes from the place of intimacy. It's this level of revelation that will transport you in a Nano-second to a place where information you've had for years can't even direct you...A lot of times, listening to just information will cause you to abort the revelation God has given you. So, I believe that God is transitioning the church from a sole reliance on information to one that emphasizes His revelation. We must cast down reasoning, logic, vain imaginations and anything that exalts itself above the revelatory knowledge of God, because the natural mind cannot receive the things of the spirit. They can only be spiritually discerned.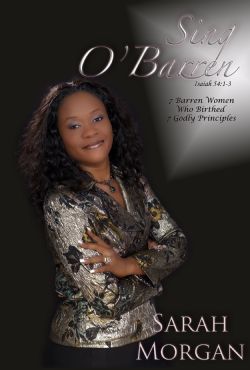 NE: Amen! Well, before we go, let's talk about your book. In fact, you've authored several books. Please share with us about your book, "Sing O' Barren."
SM: This was a book that I wrote that was birthed out of a season of great trial and tribulation. During that time, I remember hearing God say to me, "Sing." However, I told Him I felt I didn't have a song, because I was in such a painful place. And, God said back to me, "I didn't ask you to sing, I've commanded you to sing..." So, I began to research the barren women of the Bible, and I came up with seven who were barren, but they were carrying something significant that God allowed them to birth for His purpose. So, I wrote the book based upon the lives of those seven women; the revelation I received changed my life and lifted me out of the terrible place I was in when I realized that:
Sarah - birthed Isaac which means laughter and conquest - this is symbolic of victory over the enemy. God looks at His enemies and laughs....Psalms 2:2-4

Rebekah - birthed Jacob which means change and transformation - Rebekah brought forth two nations, Jacob and Essau; when you are carrying nations there will be a struggle before change; on account of the brothers there was struggle between two nations and two natures. Jacob became Israel.

Rachel - birthed Joseph which means patience - Joseph had to be patient from the time God gave him the dream, from the pit to the palace, a place of prominence. We too, must be patient.

Hannah - birthed Samuel who released the prophetic - This was during a time that Heaven was shut over Israel and there was no revelation; but through prayer, fasting, and intercession, God opened Hannah's womb and caused Samuel to come to usher in the prophetic.

Minoah's wife - birthed Samson which symbolized strength and the anointing - The spirit of the Lord moved upon Samson and showed himself mighty, as he tore up gates of cities.

Elizabeth - birthed John which symbolized timing and preparation - the name Elizabeth means promise, and in time she brought forth John, which prepared the way of the Lord Jesus. Without John, there couldn't have been Jesus! This is an example of when "Preparation meets Purpose, there shall be a Performance!"

Mary - birthed Jesus! - Mary conceived from a womb that had never been impregnated; She brought forth the seed of God, Jesus Christ the fulfillment of Gods purpose for the redemption of humanity (1 John 3:8b).
NE: What a powerful synopsis of your book! I think we all should get this book and take an in-depth look at the revelation God has given you.
Pastor Morgan, as we close, on a personal note, what does your family mean to you in this hour?
SM: First there is Jesus; however, my family is everything to me. They are the center of my very being. My husband, Bishop Peter Morgan, not only is he a great Apostle, but he is a great husband and an outstanding father. He's one of the graces that God has given me as he consistently prays for me; provokes me to do what God has called me to do; he has prophetically activated and nurtured the gifts of God within me; I've just learned so much from my husband, through his life and his calling. Words are just not adequate to express my profound gratitude to God for bringing him in my life. He and my children are my life's greatest joy.
NE: Amen! As a final thought, Pastor Morgan, what do you believe God is saying to us in this hour?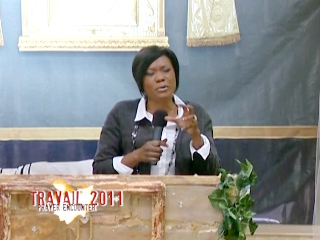 SM: I believe that God is saying that this is the season where everything is going to make sense...Especially to those who have been steadfast and unmovable and abounding in the works of the Lord; for those who have endured hardship; for those who have not allowed themselves to become consumed with the fires of life, but purified by them. I believe that this is a season of restoration...We've take a lot of hits in the Body of Christ, but God is getting ready to make it good; I believe He is getting ready to vindicate and clear the name of the Body of Christ. There are those that have gone between the pillar and the porch and have repented on behalf of the Body of Christ for our sins and shortcomings. Therefore, I believe God is getting ready to bring, restoration, restitution, and reconciliation; I believe we are coming into divine alignment with the purpose and plan of God. I believe God is getting ready to pour out many blessings that we may not have room enough to receive, especially for those who feel they have hit ground zero and are emotionally depleted because they have consistently cried, travailed and birthed through some of the roughest times of this hour!
In this season of Radical Restoration the LORD said, " I AM coming to settle accounts; Every account that is closed will be re-opened; every account in the negative will be brought to positive; every account opened will be filled, for I AM hastening to perform My Word!