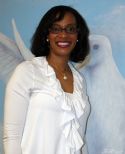 Dr. Rosalind Osgood is a former welfare mom who previously lived homeless on the streets of Fort Lauderdale. This resulted from her struggle with substance and alcohol addiction. Through faith in God and the help of numerous men and women, she has been able to change her life in ways that were previously unimaginable to her. Today this Broward County native has made numerous achievements. She is also an excellent mother with three children in three different State Universities.
She has earned both a Master's and Doctorial Degree in Public Administration from Nova Southeastern University. In December of 2007, she earned a Master's of Divinity Degree from New Orleans Southern Baptist Theological Seminary. Reverend Osgood has the unique honor of being the first women in the history of the Mount Olive Baptist Church of Fort Lauderdale to be licensed, ordained, and positioned in the pulpit. She serves the New Mount Olive Baptist Church of Fort Lauderdale in various capacities. She is the Staff Minister responsible for Community Development as well as other Home Mission efforts. She is the founder of the "Women Reaching Women" Women's Ministry. She is an itinerate preacher and also finds time to represent New Mount Olive Baptist Church in the District, State and National Baptist Associations.
Dr. Rosalind Osgood has over 16 years of professional experience in mid to upper-level management in non-profit organizations. She is currently the President/CEO of Mount Olive Development Corporation (MODCO). In this capacity, she has demonstrated extraordinary managerial and transformational leadership skills. Dr. Osgood's tenacious work ethic, creativity and administrative skills have given birth to various new programs. She has increased MODCO's budget by 175%. She is also an Adjunct professor at both Florida Memorial University and Nova Southeastern University. She is a professional consultant in the areas of non-profit administration, strategic planning, organizational development, and Team Building.
Reverend Dr. Rosalind Osgood is an educator, humanitarian, and public servant. She has been the guest lecturer for various community events and public policy forums. She is the author of two academic articles, "Moral Development and Municipal Elected Officials" and "Ethics in Municipal Government in Florida". In addition, she is a member of numerous professional organizations to include: Alpha Kappa Alpha Sorority, Inc., and Sisters with Things In Common. Dr. Osgood exemplifies an extraordinary commitment to volunteerism. She is the former public policy chair for both the Broward County and State of Florida Branches of the American Association of University Women. She has served four years as a member of the Substance Abuse Advisory Board for Broward County, two years on the CRA Advisory Board for the City of Fort Lauderdale and the Board of Directors for the Broward Coalition for the Homeless. She currently serves as a member of the City of Fort Lauderdale's Economic Development Advisory Board, the Central Broward Teen Alliance Coalition and Vice Chair of the Broward County Housing Council.
Dr. Osgood has been featured in several newspapers and magazines articles. She has received numerous awards. In 2009 she was the recipient of the JM Families African American Achievers Award for Community Services. She was also inducted into the Broward County Women's Hall of Fame. In 2006, Dr. Osgood served as the Grand Marshall for the Martin Luther King Parade. In 2005, Reverend Osgood was honored as an "Outstanding Citizen" by the Sistrunk Festival Parade Committee. She was the recipient of the 2004 Broward County Urban League's Kathleen Wright Legacy Community Service Award.
Her Motto: Overcome Obstacles by Optimize Opportunities and Obtaining Outstanding Outcomes