Prophetess Janet Floyd, Janet Floyd Ministries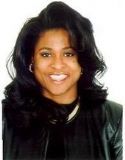 Contact Information:
New Beginnings Worship Center
P.O. Box 4461
Monroe, LA 71211
Ph: 318-324-9210
Desiring to see God's people efficiently armed with the knowledge of God so that mighty exploits can be performed in the life of the saints, Prophetess Janet Floyd, is a young woman that God is using to minister a powerful word coupled with knowledge and anointing to bring deliverance to the people of God.
As she travels the nation, Prophetess Floyd has allowed God to use her as an instrument of healing to the Body of Christ and has given her "the tongue of the learned that she should know how to speak a word in season to him that is weary!"
Needless to say, to hear from Prophetess Floyd is to "Hear from Heaven!" Operating under a heavy prophetic mantle, lives are changed, captives are set free, and power imparted as God uses her mightily in the realm of the supernatural.
Prophetess Floyd is the Pastor at New Beginnings Worship Center in Monroe, Louisiana where she is pursuing her first love, that of nurturing and strengthening the people of God.
While functioning in the office of a Pastor, Prophetess Floyd has also received a Bachelor and Master's degree in English and a Juris Doctorate degree.