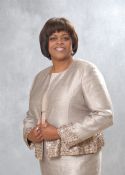 Reverend Dr. Suzan Johnson Cook is the Immediate Past President of the Hampton University Ministers' Conference and the first female President in the history of this 10,000 member conference, which represents all the historically African-American denominations.
Dr. Johnson Cook is a Senior Pastor at the Bronx Christian Fellowship Church, also known as Believers' Christian Fellowship, which she founded in 1996 after serving as the pastor at the Mariners' Temple Baptist Church in downtown Manhattan for 13 years and growing their membership exponentially. A powerful preacher, Dr. Johnson Cook was recently described in The New York Times as "Billy Graham and Oprah rolled into one." She is known as the "Wall Street Pastor" and regularly conducts and facilitates corporate ministry.
Rev. Johnson Cook was recently invited by House Speaker Nancy Pelosi to open the United States House of Representatives with prayer as their guest Chaplain for the day and has also recently become a Board Member of her alma mater, Emerson College.
In 1983, she was elected the first Black woman to be a senior pastor in the 200-year history of American Baptist Churches of the USA.
In 1996, Pastor Cook was the only faith leader appointed to the President's Initiative on Race (a 7 member Advisory panel to President William J. Clinton).
Her long lists of other "firsts" includes: the first woman appointed Chaplain of the New York City Police Department; the first woman from the Bronx and the first woman Baptist Minister to receive a White House Fellowship, serving with President Bill Clinton, as a Domestic Policy Advisor and developed the Faith Initiative for HUD.
Featured by Ebony Magazine in 1997 as one of the nation's top 15 women in ministry and by Time Out Magazine as one of New York's top 5 preachers;
Dr. Sujay is the author of nine successful books which include: her latest release Moving Up (Doubleday: 2008), Too Blessed to Be Stressed (Nelson: 1998), A New Dating Attitude – Getting Ready For The Mate God Has For You (Zondervan: 2000) and The Sister's Rules for Ministry (Word: 2003). Her latest, Live Like You're Blessed (Doubleday: 2006), was featured on Good Morning America, the Tavis Smiley show and is becoming a Bestseller.
A faculty member and graduate of Harvard University she also received a Doctor of Ministry degree from United Theological Seminary (Dayton, OH. '91); a Master of Divinity degree from Union Theological Seminary ('83) and a Master of Arts from Columbia University ('76).
Rev. Dr. Suzan D. Johnson Cook recently toured nationally with Bishop T. D. Jakes and the God's Leading Ladies Conference. Dr. Johnson Cook has been a television producer and on-air host for all of the major networks and was the co-officiant for the Homegoing Service of Civil Rights Leader, Coretta Scott King.
Dr. Cook is married to Ronald Cook and they reside in New York City with their two sons.
Rev. Dr. Suzan D. Johnson Cook is a woman of promise, passion, diligence, dedication and determination. She is the LEADER'S LEADER. When leaders need guidance, they go to her. Her mentoring and leadership skills have now charged her to form the Women In Ministry International Summit, which supports and advocates for women church leaders from around the world and hosts an annual conference dealing with 21 st century "real life" issues for the woman leader. In May 2008, emerging women leaders will come together under her leadership in a conference for about and by women. Website: www.DRSUJAY.com