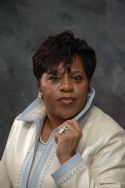 Contact Information
Greater Faith Temple Church
4214 White Plains Rd.
Bronx, NY 10466
PH: 718-547-8966
Pastor Michel White-Haynes is the Founder and Pastor of the Greater Faith Temple Church of the Living God in the Bronx, N.Y. She carries an Apostolic mantle upon her life and has been called by God to be a covering for a number of ministries. She is the Overseer of Greater Faith Temple Ministry Alliance, [GFTMA] covering Greater Faith Ministries [Harrisburg, PA], Bountiful Blessings [Hempstead, NY], Greater Blessed Hope [Mt. Vernon, NY], GFT Living Word Ministries [Monticello, NY] GFT Rhema Christian Worship Center [Newburgh, NY] and Revelation Universal Worship Center [Summerville, SC]. Also part of GFTMA is Redeeming Hearts Ministry [Bronx, NY]. We believe that this is Pastor Haynesí season and we look forward to this alliance [GFTMA] expanding to include other churches and ministries in the very near future.
Pastor Michel White-Haynes is a proponent of the importance of education and leads by example. She is a graduate of Fordham University holding a B.A. in Psychology. She also holds a Bachelor of Theology and Religious Education from the American Bible College and is an advanced graduate student of the Manhattan Bible Institute in New York City.
She has preached the gospel of God for more than 25 years. Inasmuch as she has dedicated herself to the Greater Faith Temple Church Family, the Lord has enlarged her territory to include another ministry (personal ministry) "Fresh WindsĒ. Her Fresh Winds radio broadcast was used to minister hope to the hopeless, faith to the faithless and the love of Jesus Christ to the loveless. The evidence of the power of God through this ministry was manifested through testimonies at the end of each broadcast.
She is multi-talented and she has been favored with a tremendous music ministry that includes: singing, training choirs, choir directing and playing various instruments.
Pastor White-Haynes is extremely interested in uniting the Kingdom and by the leading of the Holy Spirit, she was instructed to conduct a Prayer Day. This unified body of believers, consisted of different denominations, worshipping collectively. Baptists, Catholics, Latin Americans and Pentecostals all came together in a day of prayer and praise and all to the Glory of God. Her tireless efforts to assist new ministries, young ministries and all ministries whenever sheís called upon to minister , teach and encourage cannot go without being mentioned. Her credentials and gifts coupled with her anointing have made Pastor White Haynes a formidable vessel fit for the Masterís use.
Pastor White-Haynes is a leader who watches for the souls of her sheep and loves unconditionally. She lives the life she preaches about and leads by example with integrity.
She is married to a loving supportive husband, James Haynes, a retired New York City Police
Officer.
She is a pastor in love with God with a compassion for people and has led her congregation into greater heights, deeper depths and Greater Faith in God.
Under Godís direction and Pastor White-Haynesí perseverance, her ministry was able to relocate from a storefront into their own multi-million dollar temple, the Greater Faith Temple Church of the Living God!