Lady Leah McNair, Lady Leah Ministries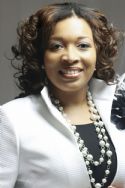 Contact Information:
Emmanuel Baptist Church
204 Turner Street
Thomasville, NC 27360
Ph: 336-475-1018 ext. 3
Lady Leah Hill McNair is a native of Greensboro, NC and has been God's best kept secret in the Kingdom of God. This blessed woman of God developed a passion for God and has been a true gift to the body of Christ since she was a young girl. She began serving at an early age when she identified and answered the call that was upon her life in 1998. Ordained in 2001, as an Elder in the Lord's church she has served in various capacities and fulfilled many leadership roles including executive administrator and assistant pastor. Her labor in the vineyard has helped to birth other ministry gifts that have made her the woman that she is today.

Her ministry transcends racial barriers and denominations throughout the United States as well as overseas. The evangelistic call on her life has afforded her opportunities to minister nationally and internationally. Lady McNair has utilized her ministry gifts in Africa to provide leadership training, facilitate workshops, organize & lead missions groups and preach revivals that lead to the saving of many souls. In addition, while in Africa her remarkable leadership skills were vital in the birthing of a new ministry in Africa. Known for her powerful, life-changing, prophetic messages wrapped in grace and elegance, Lady McNair has ministered with some of the countries nationally known speakers including, Dr. Wanda Davis Turner, Sheryl Brady, Dr. Carolyn Showell, Rita Twiggs, and Susie Owens. She was a featured guest on "Today's Woman", a national television show that highlights some of America's most prominent women in business and ministry. Her cutting edge ministry has brought salvation, healing, deliverance and supernatural wholeness to many.

Lady McNair is a graduate of the University of North Carolina at Greensboro with a Bachelor's degree in Public Health Education. In 2004, Lady McNair's strength became greater as she joined forces with her husband, Pastor P. Michael McNair. In 2007, they divinely answered the call of pastoralship to the Emmanuel Baptist Church, in the city of Thomasville, NC, the most innovative and progressive ministry in the city. Together their hands have been busy building and strengthening the kingdom for 21st century ministry. In the same year, they birthed "Team Empowerment" a ministry focused on enhancing church bodies through hands on training and workshops in the areas of lay ministry, church order, administration, the spirit of excellence, music ministry, Christian education, the Joseph's anointing and leadership conferences.

"Lady Mac" as she is affectionately called by many, has a hands-on approach to ministry, serving God's people right where they are and pushing them to where they are destined to be. She is boldly fulfilling the mandate on her life to be an empowering and uncompromising voice in the Body of Christ. She is the fearless leader of the Women's Ministry at Emmanuel Baptist Church, which ministers to several women in the local ministry as well as the community with women's fellowships, Bible studies, Annual Women's Conferences and Women's Retreats. In 2007, Lady McNair spearheaded "Girls Night Out", a program for teen girls to discuss critical life issues and enjoy high class treatment for a day. Lady McNair is the CEO of "Destiny's Lady", a premier fashion and wardrobe consulting business that specializes in upscale apparel, custom clothing, and accessories. With such passion to be an example to women today, Lady McNair pushes strongly to focus not only on her evangelistic word but also the professional entrepreneur, wife, First Lady and spiritual mentor that she is as well.