Elder Sharon Grant
DISCLAIMER: PreachingWoman.com does not recommend, accept, or affirm ministry opportunities for the speakers listed in our speaker's bureau. Each speaker listed administrates and facilitates their own ministry opportunities. Please contact their ministry or website directly for more informtion or for booking purposes. PreachingWoman.com only administrates and endorses events sponsored by BreakForth Ministries and Consulting, Inc., parent Organization of PreachingWoman.com. When contacting any speaker in our bureau, please be prepared to provide references and credible history regarding your ministry opportunity.

DOWNLOAD SPEAKER'S BUREAU APPLICATION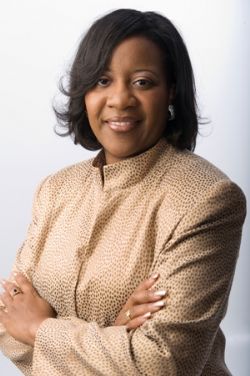 Elder Sharon L. Grant is a native of Atlanta, Georgia. She is a graduate of Wesleyan College in Macon, Georgia where she received her Bachelor's degree in Computer Science. During her time in Atlanta, Elder Grant was married to the late Rev. Terry Grant for over six years.
Elder Grant was instrumental as Choir Director, Bible Study Teacher and Youth Minister at New Jerusalem Missionary Baptist Church where her parents, Pastor and 1st Lady Thomas Ashford are the overseers. In August 1997, Elder Grant and her daughters moved to Dallas, Texas where they began attending The Potter's House of Dallas under the leadership of Bishop T. D. Jakes. She has been a member of The Potter's House since October 2002 and a servant on the Ministerial staff since November 2005. In 2006, Elder Grant became an instructor at The Potter's Institute. She has taught courses such as Prayer and Fasting as well as Practical Discipleship. Elder Grant is a 2007 graduate from the Lay Helper's Counseling program at The Potter's House and was certified through the American Association of Christian Counselors. Currently, she is pursuing the Master's of Divinity degree at Southwestern Baptist Theological Seminary in Fort Worth, Texas.
Elder Sharon Grant has a spirit and a testimony that allows her to minister the Word of God to those that are broken-hearted, despondent or discouraged. God has given her the opportunity to minister throughout several states. Her bold presentation and teaching ability has enabled her to minister to various denominations and organizations. It has been Elder Grant's privilege to serve at various retreats and conferences as well as youth events. One of her greatest joys is teach and preach the Word of God until someone's life is changed.
Elder Grant's love for God and His Word coupled with her faith is undeniable and it transfers to the love she has for her daughters. She always feels that her greatest area of servanthood is as a proud mother to her children.