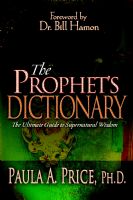 Each month, PreachingWoman.com features one exceptional book that we recommend for you to add to your library. Please take a moment to review
The Prophet's Dictionary
. This one is a must have, and is authored by this month's featured preaching woman, Dr. Paula Price. Be sure to purchase your copy today!
Discover truth in The Prophet's Dictionary: The Ultimate Guide to Supernatural Wisdom, as international minister and radio host Dr. Paul Price shares biblical meanings for terms used to minister in the prophetic.
With over 1,600 terms and phrases regularly used in prophetic language, The Prophet's Dictionary will give readers-both ministers and lay persons-a well-rounded understanding of God's Word and revelations. Most importantly, this dictionary will help to uncover and expose tactics used by false prophets to spread lies throughout the church. Bill Hamon, founder and president of Christian International Ministries Network, writes, "It is essential to know the terms that the false and counterfeit use in order to discern the difference between the truly God-ordained and the occultic, psychic, and demonic. The hope is that it will bring greater understanding, wisdom, balance and unity."