Bishop Rosie O'neal
DISCLAIMER: PreachingWoman.com does not recommend, accept, or affirm ministry opportunities for the speakers listed in our speaker's bureau. Each speaker listed administrates and facilitates their own ministry opportunities. Please contact their ministry or website directly for more informtion or for booking purposes. PreachingWoman.com only administrates and endorses events sponsored by BreakForth Ministries and Consulting, Inc., parent Organization of PreachingWoman.com. When contacting any speaker in our bureau, please be prepared to provide references and credible history regarding your ministry opportunity.

DOWNLOAD SPEAKER'S BUREAU APPLICATION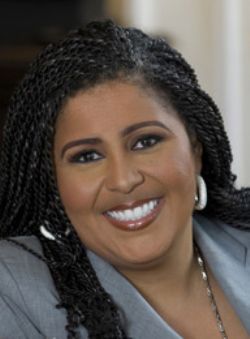 Contact Information
Bishop RosieS. O'neal
Koinonia Christian Church
1405 SW Greenville Blvd.
Greenville, NC 27834
Ph: 252-752-1898
Bishop Rosie S. O'neal was born December 14, 1965 in Kaiserslautern, West Germany. The product of a weekend pass, Bishop O'neal was placed into an orphanage right after birth. The Lord blessed her with loving parents, Norman and Joann Standifer, who gave her more than just a place to live, they adopted her, gave her a last name to cherish and provided her with love, security, and the home environment that would position her to walk into the calling for which she had been predestined. The bulk of her childhood was spent in Charlotte, NC and it was there that God continued unfolding His plans for her life.
Bishop O'neal gave her life to Jesus Christ on October 14, 1981 at the age of 16. She was baptized in the church in which she was a member: Mount Olive Missionary Baptist Church, where her grandfather, the late Dr. Max B. McIlwain, served as Pastor.
God continued revealing His plan for Bishop O'neal's life as she entered East Carolina University in Greenville, N.C. Soon after entering ECU, she answered the unmistakable call to ministry and preached her initial sermon at age 17. She was an evangelical socialite on campus - buying and purchasing Bibles to give out to those in need. She was charismatic by singing in the Gospel choir, befriending the unfriendly and motivating the unmotivated.
She captured the eye of Toiriste Winifred O'neal whom she later married on October 16, 1988. She had always been a pastor in heart from the school playground where she fought for the underdog to crisscrossing campus to pray with anyone who needed prayer to leading a group of other believers into new levels of spiritual maturity. On the first Sunday in February 1989, she founded the Koinonia Christian Center Church with seven eager members who wanted to receive and learn more about the truths of God's Word.
As a pastor and a pastor to pastors, Bishop O'neal's episcopal ministry is best expressed by her heart. She lives to love Christ and to love and serve others, and joyfully serves Koinonia Christian Center Church Ministries as Senior Pastor. From a church of seven to well over 2500 members, Bishop O'neal has maintained an atmosphere of transparency, integrity, authenticity, and excellence.
As the founder and presiding Bishop of K.F.C.M., Koinonia Fellowship of Churches and Ministries, Bishop O'neal provides covering to 18 churches both stateside and internationally. A giver by nature, Bishop O'neal has tirelessly counseled Pastors, churches and people from all walks of life investing into their lives on a variety of levels. Because of her keep-it-real approach to ministry, churches and pastors are drawn to her genuine spirit and approachable attitude. She both encourages and instructs by sharing knowledge and information that has transformed ministries and impacted lives.
As a graduate of Mount Olive College with a Bachelor of Science degree in Religion, and a minor in Business Management and Organizational Development, Bishop O'neal desires to broaden her horizons and gain new insights into ministry applications to be of even greater benefit to those she serves.
Bishop O'neal partners together with her husband, Toiriste to oversee the spiritual and practical day-to-day operations of Koinonia Christian Center Church Ministries. Together they provide both the Biblical, functional and spiritual guidance that is necessary to maintain and develop an ever-increasing, ever-expanding, God-ordained ministry of excellence.
As a mother, Bishop O'neal is proudly and joyfully devoted to raising her sons, Toiriste Winifred O'neal Jr., and Jonathan Anthony O'neal. Her commitment to her marriage, her family, and her church has caused Bishop O'neal to receive the favor of God and gain the trust and respect of ministries all over the world. As a recent cancer survivor, Bishop O'neal has shown that faith and perseverance will carry Believers through anything they may encounter.