Elder Vikki Johnson
DISCLAIMER: PreachingWoman.com does not recommend, accept, or affirm ministry opportunities for the speakers listed in our speaker's bureau. Each speaker listed administrates and facilitates their own ministry opportunities. Please contact their ministry or website directly for more informtion or for booking purposes. PreachingWoman.com only administrates and endorses events sponsored by BreakForth Ministries and Consulting, Inc., parent Organization of PreachingWoman.com. When contacting any speaker in our bureau, please be prepared to provide references and credible history regarding your ministry opportunity.

DOWNLOAD SPEAKER'S BUREAU APPLICATION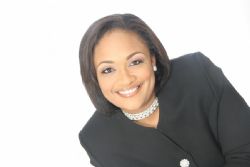 "And He gave some Apostles; and some Prophets, and some Evangelists, and some Pastors and Teachers for the perfecting of the saints, for the work of the ministry, for the edifying of the Body of Christ." (Ephesians 4:11-12)
Coming from a legacy of preachers, Elder Vikki Johnson is walking in steps of destiny. Her uncle was Bishop J.S. Flipper, one of the founding Bishops of the A.M.E. Church. An anointed woman of God, her ministry mission is to challenge you, to provoke you to change, to give you hope, and to reveal the strongholds of the enemy in the Body of Christ. Once you experience her ministry, your life will never be the same.
With a deep passion and love for people, Elder Johnson is currently the Staff Pastor of Women at Kingdom Worship Center in Towson, MD where Bishop Ralph and Elder Deborah Dennis are the Senior Pastors. She began her ministry training at Greater Mt. Calvary Holy Church under the leadership of Bishop Alfred and Co-Pastor Susie Owens in Washington, DC where she served in several ministry capacities for over 13 years.
Elder Johnson is a graduate of Howard University with B.A. in Broadcast Management and is the visionary and the voice of "I'm Every Woman", a daily radio commentary on Washington's #1 choice for gospel, Heaven 1580AM. Blessed with a global ministry via
www.eldervikkijohnson.org
, Elder Johnson is also the founder and facilitator of "Girl Talk", a quarterly event where women dialogue in an intimate, informal, and unscripted setting. Her first book,
Gems For the Journey,
was released by BET Books in August 2005 and became a National Best Seller.
Her second book, More Gems For The Journey, was released by Harlequin Books in August 2006. Her third book, Addicted To Counterfeit Love, was released in 2007. Elder Johnson has also been invited as a guest speaker at the Pentagon in Washington, DC for its 2006 Women's History Month activities, amidst other prestigious speaking engagements.
With over 25 years experience in the music, sports and entertainment industry, Elder Johnson is currently employed by BET as Manager of Public Affairs. In addition, she is the CEO of VGR Entertainment, an entrepreneur, a mentor, and a member of various organizations including Delta Sigma Theta Sorority, the National Association of Black Female Executives in Music and Entertainment (NABFEME), and The Sista Girl Network.
A woman of vision and believer in the relentless POWER of praise, Elder Vikki Johnson lives in the confidence of Philippians 1:6 which states: "Being confident of this very thing, He that hath begun a good work in you will perform it until the day of Jesus Christ."