PreachingWoman.com would like to spotlight a very special and amazing author that is very dear to our founder, Evg. Nichelle Early. The author of our featured book for the month of March will be sure to ignite your passion for the Lord and bring you inspiration beyond measure through her book
Poems and Prayers of Church Mother's Heart: Inspirational Wisdom For Our Generation. Written by our founder's 83 year old grandmother, Mother Bernice Lang intricately weaves God-inspired wisdom into your spirit while giving you a renewed hope in our Lord and Savior Jesus Christ. Additionally, she proves to all that it is never too late to fulfill your dreams and purpose. Please take a moment to review and consider purchasing this book. It is truly filled with timeless truths that will impact every generation for years to come!
This month's powerful feature: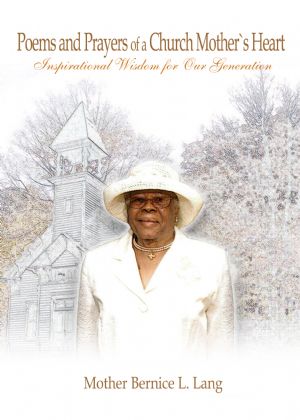 In Prayers of a Church Mother's Heart: Inspirational Wisdom for Our Generation, Mother Bernice Lang takes you on a powerful journey guaranteed to usher you into the presence of the Lord. If you've been looking for a devotional book to encourage your spirit and lead you into prayerful communion with God, this is the one for you. You get 19 power-packed devotionals, full of practical wisdom, poetic worship and anointed prayers that are sure to set your soul ablaze!
Whenever you need to be inspired and encouraged, simply open up Poems and Prayers of a Church Mother's Heart and instantly receive the comfort you need. As you draw from the well of wisdom contained on each page your spirit will be rejuvenated and your heart uplifted.
This book is a one-of-a- kind, rare gem, and a wonderful gift for friends, family, and leaders in search of a practical resource to incite prayer and worship.
If you're ready to experience a deeper revelation of the power of God and take your prayer life to a new dimension, then, start reading.

Purchase Now!
Mother Bernice Lee Lang shines as a beacon of light and an inspiration to visionaries everywhere. At the golden age of 82, she has completed her debut masterpiece, Poems and Prayers of a Church Mother's Heart: Inspirational Wisdom for Our Generation. Through great trials and triumphs, obstacles and victories, she has emerged as a voice of wisdom, giving birth to a new generation of leaders.
Mother Lang was born in Grangeville, Georgia, on June 25, 1925 to Mr. and Mrs. Josiah Lang. She has always been courageous and diligent in the pursuit of her dreams and God-given purpose. Even during a time when education came hard for African Americans in the United States, Mother Lang earned her diploma from Wayne County High School. Upon graduation, she put her knowledge and education to good use, by serving as a dedicated elementary school teacher.
As a committed educator, she stood as a symbol of hope for other African American children, who realized, by her example, that successfully reaching their educational goals was indeed possible. In 1943, nearly three years into her tenure as an instructor, she relocated to Brunswick, GA, a charming, close-knit community, where she has resided for the past 64 years.
Under the leadership of Dr. G. Bobby Hall, Mother Lang currently serves as President of the Mother's Board at Greater Hall Temple COGIC. She is known and respected as a mighty prayer warrior and a nurturing mother to all in need of compassion and instruction. She has faithfully participated in various auxiliaries at Greater Hall Temple COGIC, including: Young Women's Christian Council Committee, Early Morning Prayer Band, and more.
With a heart of gold and a smile that will light up a room, her doors are always open to visitors, family and friends. Mother Lang is an exceptional cook and will happily provide the best soul food, both naturally and spiritually, to those who hunger. She is indeed adored by many, especially her six wonderful children, three daughters and three sons. Mother Lang is also blessed with: three sons-in-law, one daughter in law, nine grandchildren, six great grandchildren, three sisters-Mrs. Vanilla Pounds, Mrs. Elouise Johnson, Mrs. Josephine Dart and one brother, Mr. Hazel Lang, all who reside in Brunswick, Georgia.
She has persevered through many hard trials, but her faith has always withstood the test. An avid teacher and mentor, she often says, "God calms His children in the midst of the storm and we can remain steadfast, knowing He is always with us." She has touched the lives of countless people along her journey and is indeed a great gift to the Body of Christ.