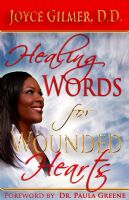 Feeling better is good but being whole is Go's will for your life. In Healing Words for Wounded Hearts, Joyce Gilmer, D.D. candidly shares through her own story, the devastating and lasting affects of abuse and the process and power to rise above it all. She focuses her attention on practical principles based on scriptural promises to lead the reader in to an authentic healing for their soul. Regardless of what may have caused a wounded heart; divorce, tragedy or a situation like hers, she heralds the certainty, that God's grace is sufficient to bring full restoration into every life.
Written under a prophetic anointing, this book has been released in to the earth at this time, to aid wounded souls into their final victory. Pastor Joyce heart's cry to everyone that is struggling between the process and the promise is that, "God still has a plan for your life."
Dr. Joyce Gilmer is a sought after speaker that has served in ministry for more than 25 years. She is the Founder and President of Women Empowered, by which women receive life-applicable tools through the inspirational and instructional Word of God. She is endearingly known as a "Pusher" in the Kingdom, for her ability to tap in to the potential of others and push them toward their destiny with urgency.
Operating under a prophetic anointing, Dr. Joyce Gilmer ministers healing and deliverance across national platforms for conferences, retreats, seminars, and revivals.

Her messages are powerful and encouraging, yet laced with clear-cut truth, self-transparency and a sense of humor.