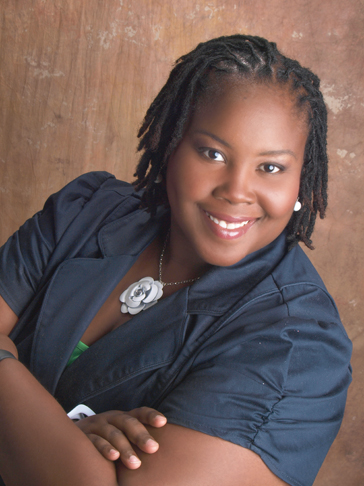 I want to start off by saying that God's grace is sufficient for you! We need not imitate another's anointing or gifting, for God has a grace for each and every one of his children.
Recently, I attending a women's conference and watched God show up and out. I was okay with the teaching and the preaching of the Word, but when she started to prophecy and impart to the women through healing and deliverance needless to say I backed up and down...because it was above my grade!!
What am I saying? I'm saying that I knew and understood that it wasn't my assignment for God to use me in that capacity, so I stayed in my place, position, and area of anointing. Sometimes as women called and chosen of God, we can sometimes have a tendacy to attempt imitate what we are around and become like it, and not of it. What I'm saying is, at times, we act like, but aren't like, because we have no authenticity in us or it just may not be our time.
God wants to use us. He has given each of us gifts, talents, concepts, and ideas to change the world, but He can only use us when we are being true to who we really are, and flowing in the timing and assignment that He has given us. I stepped back because my name wasn't called. See, just because we like another woman's shoes doesn't mean we should go out and buy the same shoe. Spiritually speaking, just because we celebrate another woman's gifting and anointing doesn't mean we should try and be them...because we admire their shoes. No, God wants to give each of us our own shoes and if we commit to Him and walk in our own shoes, God will give us our own gifting and anointing once He can trust us with staying in our lane. See, the other side of this is when people don't pay the price they abuse the product! Oftentimes, the one being admired becomes the object of envy and jealousy just because someone "liked their shoes." Wait and get your own shoes, for God has a grace just for you!
What is a cupcake? Spiritually speaking a cupcake is a person that is soft in the middle, melts under pressure and has very little substance or nourishment. They are sweet, but not nutritious. The bible says that we are to be "...like trees planted by the water that brings forth its fruit in its season: his leaf does not wither and whatsoever he doeth shall prosper" (Psalm 1:3). We are to bear fruit not snack cakes and candy. We are to be like trees; and trees bear fruit i.e. substance, nourishment, and is necessary for the survival of our lives. God wants to use us to sustain and give people nourishment in every area of their lives.
Lightweights, conversely, are people that blow in the wind, not firm in position and can't stand under pressure. James refers to them as being double-minded, saying: " they are unstable in all their ways" (James 1:8). Lightweights want more, but aren't willing to change to become more- they despise the process. By letting patience have its perfect (mature and complete) work it will settle your mind and heart that you will stand and endure under pressure.
The heavyweights are the kinds of people that stand up under the test, endures under pressure, and perseveres through adversity. Many want to be a heavy weights but fail because they are wearied by men. Jeremiah 12:5 says, "If you have run with footmen, and they have wearied you, then how can you contend with horses..." See, we all want to be heavy weights, but we aren't all willing to pay the price to walk in the power of the Spirit. Footmen run, but horses fight. If we are ever going to get to the place where God can really use us we must stop getting distracted and wearied by men. Heavyweights in the Spirit are the generals and leaders in the spirit- they fight and are on the battlefield of the spirit realm day in and day out.
God wants to develop us into Heavyweights for His glory, but we must put Him first (Matthew 6:33). We must drink waters from our own cisterns, and running waters from our own wells (Proverbs 5:15). This means that God will give each us OUR portion and not somebody else's.
Know that as you go about your daily routine, you are important to God. He has a grace just for you, and as you prove faithful to Him in the little things, He will give to you bigger things; but the most important thing He wants to give us is His character and nature. Let's study to allow God authenticate us in every way; and as He does so, know that He will manifest His presence through you, because He can trust you with the anointing. Let us allow the Holy Spirit to elevate us to Heavyweights, because that's who God intends for us to be! God bless.